With Winter Storm Jonas ready to hit the east coast including Washington DC, New York, and Boston, it's time to bundle those kids and get them outside. (We see you West Virginia getting all that PINK accumulation!!)
Storm hits on Friday? School cancelled? Great!! Take the day off, spend it with the kids, turn your phone off, and get out in the snow.  The memories you make sledding, building a snowman, and making snow angels will plow those useless Friday emails into a pile that you can unpack in the spring. Don't be this guy trying to cram in that last day of the work week.
So you are getting ready to go outside?  Have you done the following:
Use knee-high socks to prevent any snow in the boots from touching your kid's skin

Pull elastic ankles on the snowpants OVER the boots in hopes that they hold (never do) and keep that snow out in the first place.

If their jacket has a hood, use it!  Otherwise snow will be down their back very quickly.

Keep tissues in your pocket for the inevitable boogie wipe, otherwise the sleeve of the coat becomes a disaster

DON'T FORGET THE CUBBIES!!!! The #1 cause for coming in from the snow early is ALWAYS the cursed dropped mittens causing cold wet hands and frustrated parents.
 Once you have the gear prepared and get outside, be on the lookout for teachable moments with your little ones:
And no matter how tempting, please avoid doing this: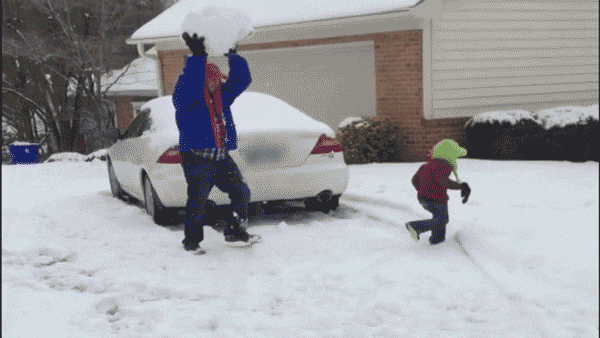 Well, it's gonna be fun.  You will always remember those fleeting moments when your children are young, outside, and wanting to enjoy the snow with YOU. EtS Apparel is here to help make those moments last as long as possible.  
Don't let cold, wet hands stop you from spending hours outside with your kids this winter.  Instead, check out our store and get those kids into our Cubbies.
If you've read this far, please enjoy 10% off your purchase with coupon code "JONAS10" at checkout.
 Enjoy the Snow!